The best way to experience Skipton Castle Woods is to visit by walking along the spectacular tow path from Mill Bridge in the heart of Skipton. On arrival in the wood you will find a site map full of interesting features, suggested walking routes and more activities to try. Happy exploring!
Amazing trees and history
Skipton Castle Woods was once part of a great hunting woodland that stretched across North Yorkshire. What remains of that great wood is now one of England's rare ancient woodland sites. 
Most of Skipton's ancient woodland is a mix of broadleaf trees such as oak, ash, lime, alder, hornbeam, holly, hazel and beech. But you'll also find yew, Scots pine and Norway spruce.
Woodland plants and flowers such as wild garlic, bluebells, wood anemone and dog's mercury are in seasonal abundance.
If your visit includes a trip to Skipton Castle, make sure to spend some time with the castle's famed ancient yew tree planted by Lady Ann Clifford in 1649.
Find out more about Skipton Castle Wood's history.
🔊 Listen to Hazel, our visitor experience officer, reading out Skipton's Sense of Place.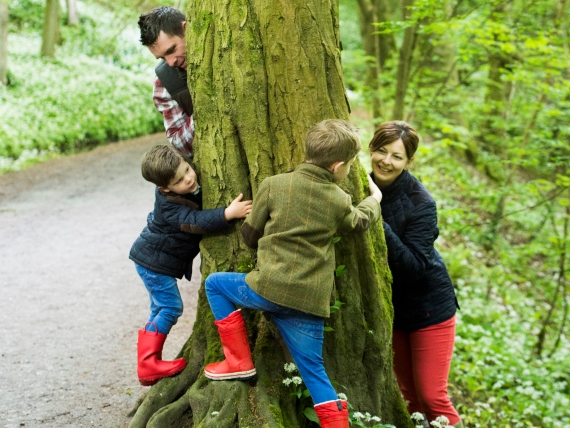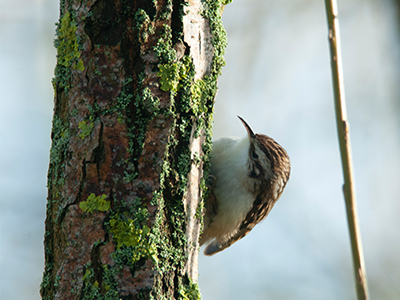 Bats, birds and wildlife spotting
Skipton Castle Woods supports a rich diversity of wildlife, including many bats, birds and deer.
If you visit at dusk you will come across Britain's smallest bat, the brown long-eared pipistrelle, or another of the five unique species of bat which call the wood home.
The wood is just as interesting for bird watchers as up to 28 species of bird are recorded here regularly. Kingfishers, heron and dippers can be spotted around the beck and canal which runs throughout, whilst green and greater spotted woodpeckers can be seen and heard deeper in the wood. Buzzards, sparrowhawks and red kites have also been regular visitors, ensuring that bird spotters come back throughout the seasons.
Deer, bank voles and badgers are also regular visitors. 
Take a virtual tour
Do you love autumn colour and would you like to see Skipton Castle Woods at its very finest? Get a feel for what awaits you with our 360° tour.
Use your computer's mouse or even your phone or tablet to explore the sights and sounds of nine of Skipton's natural highlights, including the footsteps of Sougha Gill and the banks and bridges of the canal.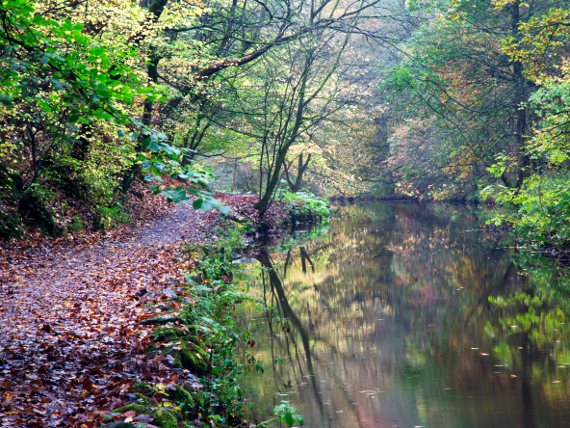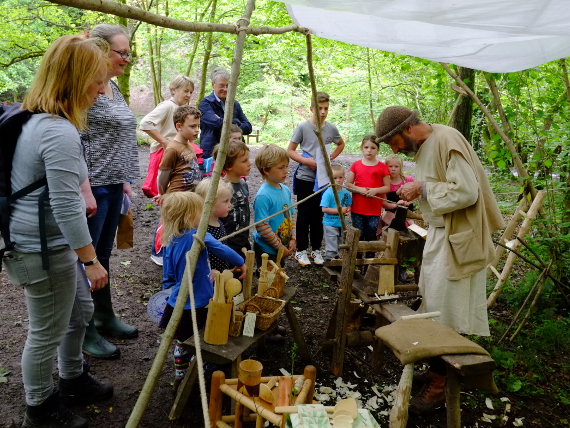 Volunteering at Skipton Castle Woods
Volunteering for The Woodland Trust can be a very rewarding experience and we know our volunteers choose to join us for many different reasons.
Some like the social aspect of working outdoors in the local community or just love their local woodland and want to help us protect and care for it. For others, the chance of gaining experience with one of the country's leading conservation charities has an appeal.
Whatever your reason, we would love to hear from you.